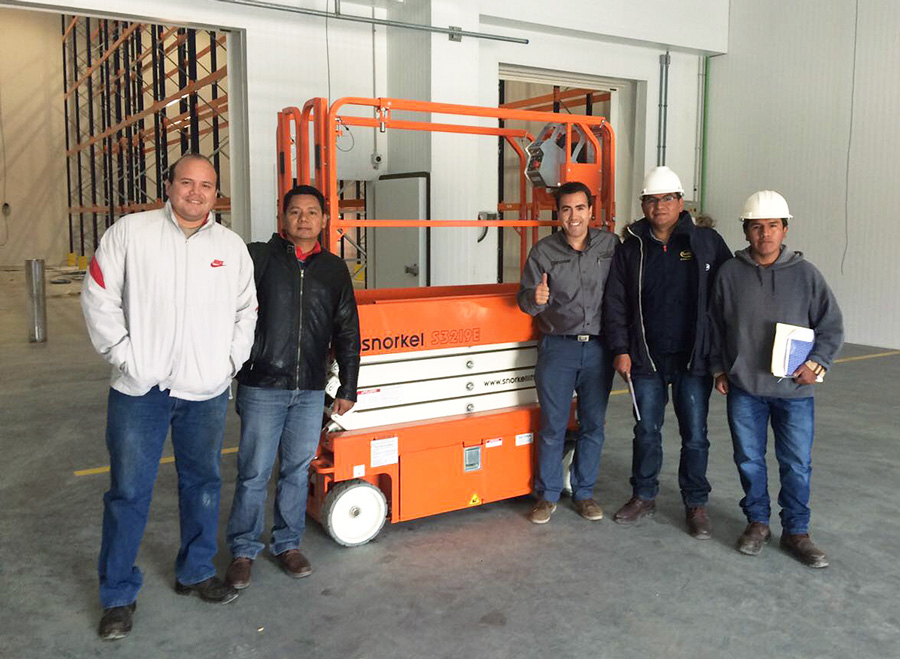 Santiago, Chile (28th July 2017) Ahern Chile, the sales and service provider for Snorkel lifts in Latin America, is pleased to announce the delivery of the first Snorkel electric scissor lifts into Bolivia.
Two Snorkel S3219E electric scissor lifts were delivered to Avícola Sofia, one of the largest food producers in the region in April 2017. They have since added to their fleet with two Snorkel S4732E electric scissor lifts delivered in June 2017.
Founded in 1976 in Santa Cruz de la Sierra, Sofia Ltda. started out in poultry, before expanding to a wider range of meat products, that today includes the production of hamburgers and frozen foods. Sofia Ltda. was the first food production company in Bolivia to achieve ISO certification for food safety along with the BPM Good Manufacturing Practices Certification, which they have maintained since 2006.
The Snorkel S3219E scissor lifts will be used within their plant in La Paz, Bolivia for installation projects and facilities maintenance. The Snorkel S4732E scissor lifts will be working inside the refrigerated storage unit. The scissor lifts were sold and will be serviced by ASERPRO in Santa Cruz, who are a local dealer for Ahern Chile, and were handed over by Carlos Vejar, Regional Service Manager for Ahern Chile, who performed the pre-delivery inspection, and provided familiarization training on-site with the Avícola Sofia team.
Engineer Walter Melgares, Chief Project Manager at Avícola Sofia, said, "We selected the Snorkel scissor lifts based on their robust build quality and simplicity of operation and maintenance. We have been extremely impressed with the service provided by ASERPRO and Ahern Chile, and look forward to developing our relationship in future."
Brody McFarland, Vice President of Sales for Latin America for Snorkel, said, "We are incredibly grateful to Avícola Sofia for putting their trust in Snorkel, Ahern Chile, and our valued partner, ASERPRO. It is a honour to deliver the first Snorkel electric scissor lifts into Bolivia, and we look forward to supporting this customer, and building our presence in the region moving forward."